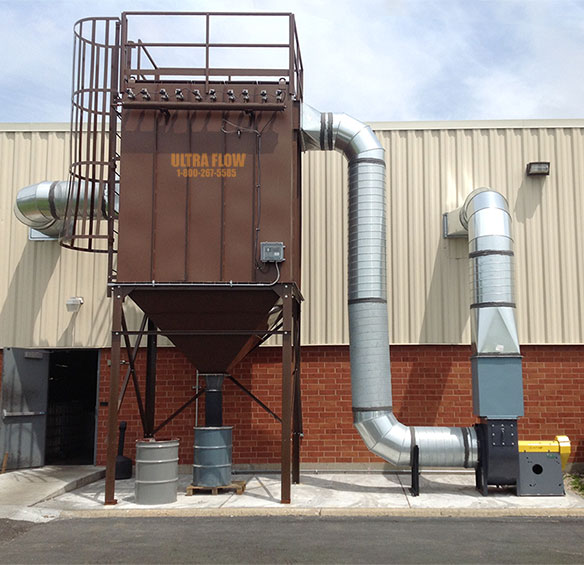 Your Ultra-Flow Baghouse Dust Collector will allow you to process large amounts of dust laden air and return perfectly clean air to the work environment, because of the most advanced UNIQUE self-cleaning technology, using powerful, but gentle reverse blasts of compressed air, to inflate the filter bags, causing the dust caked on the outside of the bag to drop down into the hopper. Our top of the line dust collectors can filter out the smallest and largest sized dust particles in continuous operating mode. Our top load filter bags and easy access doors make maintenance as simple as possible.
Eliminates dry dust for woodworking, steel and foundry, smelting furnaces, welding, grinding and polishing, laser/plasma cutting, powder coating, cement and asphalt plants, paper, automotive, rubber recycling, grain and flour dust, food, chemical.
If you could payback the entire purchase price of your dust collector, would you do it? See how thousands of operators have done just that with their operating cost savings.
Features at a glance
Imagine unmatched 99% efficiency on all types of granular dusts and air pollution control at an affordable purchase price
Lowest Operating Cost and least maintenance (50-70% lower than conventional designs)
Exceeds OSHA, EPA, NFPA dust collection and management standards
Advanced pulse jet technology prevents wear and tear of filters and cleans 100% of media
Positive seal system prevents harmful dust leakage to the outlet
30-40% smaller foot print with a lower shipping weight
Designed, Engineered and assembled in USA and Canada.
Catalog, Specifications and E-Guides - click here
Advantages Over Conventional Baghouse Dust Collector - click here
Why you should buy from Quality Air Management - click here
Case Studies: See How We've Helped - click here
Video on what sets Ultra-Flow apart from all the rest: