Imagine no more fires with the QUENCHER Spark Arrestor
NEWS;  After an unparalleled success since January 2005, we are excited to announce the first comprehensive improvement to the Quencher inline spark arrestors. The new 2019 upgrade provides lower more stable pressure drop throughout the operating range, without going below the critical 3/4 inchWC needed for effectiveness. This rule applies to all passive spark arrestors due to basic aerodynamics. By re-designing the deflector blades, the new Quencher models increase the safety factor to ensure 100% performance in arresting sparks and embers in all correctly installed units.
Providing complete comprehensive documentation outlining NFPA compliant installation, operation and application is mandatory to be included with the product. Only Quencher has the engineering personnel capable to meet the requirements of NFPA 69.
It's not just a spark trap! The QUENCHER in-line spark arrestor is engineered to channel hot embers and sparks into a high energy turbulation cell. This action extinguishes and keeps sparks/embers away from filters in the dust collector. The QUENCHER spark arrestor cools the sparks/embers, preventing fires and explosions in dust collection systems.
The QUENCHER high efficiency spark arrestor  can be mounted in-line with existing or new duct work. The QUENCHER is available in either a horizontal or vertical setup, providing the versatility to fit into any installation. Contrary to many competitive models, Quencher requires no drop out conduit to evacuate the sparks, embers and dust (an unnecessary maintenance hassle and potential fire hazard). Any duct size connection can be custom built.
An essential safety device to prevent fires and explosions; for welding, grinding, metal working, flame spray, plasma and laser arc cutting, powder spray, mixing of stratified air in ducts, furnace and boiler exhausts, foundry, woodworking.
CAUTION: Consult factory/engineering for conditions other than standard air (70 degrees F, 0% RH or moisture, sea level, and no refrigeration cycle effects). Selection of any spark arrestor must be done by a professional who knows how to make necessary adjustments when dealing with conditions other than ideal standard air.
FEATURES; Unique to QUENCHER Spark Arrestors
You have the security of knowing that the QUENCHER is NFPA 69 compliant
Most advanced spark suppressor technology available on the market today.
Extinguishes and cools sparks / burning embers from welding fumes, plasma cutting table, grinding, polishing, buffing, belt sanders, furnaces, biomass boilers, and any application which creates a possible spark hazard.
Prevents fires and explosions in all dust collection systems.
No one will give you this! See our Exceptional Performance Guarantee.
Static (passive) device with no moving parts, requiring no additional dust collection recipient. No water or chemical retardants are injected.
It is an in-line spark arrestor device, easy to apply, install, use and maintain.
A small investment for safety and big piece of mind.
Quencher Spark Arrestors are available for 2″ to 88″ (50mm to 2235mm) standard duct connections and larger or custom sizes, with capabilities in excess of 250,000 cfm (424,750 cu metres / hr).
Mini-Quencher spark arrestor for 2″ to 4″ vacuum lines is now available. See the Mini-Quencher
High temperature units up to 2000 degrees F (1095 degrees C).
Stainless steel, corrosion and abrasion resistant options are available.
Sleeve/slip connection and rolled edge (for clamp together duct).
Built to ISO 9001:2008 and CWB Certification, Your Guarantee of Quality and Reliability.
Catalog, Specifications and E-Guides
Quencher Models
DO NOT Operate Below the Minimum SCFM (standard cubic feet per minute) for a particular model.
Custom models are available for any duct size and/or operating range.
| | | |
| --- | --- | --- |
| Model | Typical Duct Diameter (inches) | Operating Range (SCFM) |
| Q-2, Mini-Quencher | 2 | 100-150 |
| Q-3, Mini-Quencher | 3 | 130-340 |
| Q-4, Mini-Quencher | 4 | 300-500 |
| Q008 | 6 | 500-810 |
| Q010 | 8 | 800-1300 |
| Q011 | 8 | 960-1600 |
| Q014 | 10 | 1500-2400 |
| Q016 | 12 | 2100-3300 |
| Q020 | 14 | 3100-5100 |
| Q024 | 16 | 4900-7600 |
| Q026 | 20 | 5400-9000 |
| Q030 | 22 | 7200-11,900 |
| Q038 | 28 | 11,500-19,200 |
| Q048 | 36 | 18,500-30,500 |
| Q060 | 44 | 29,00-47,500 |
| Q072 | 54 | 42,000-69,000 |
| Q084 | 62 | 57,000-94,000 |
| Q096 | 72 | 74,000-123,000 |
| Q108 | 80 | 93,500-155,500 |
| Q120 | 88 | 115,500-191,500 |
How the Quencher Spark Arrestor Works
Dust collection systems are designed for laminar flow in ducts, to keep pressure drop to a minimum; (1) creates a hot air envelop (800 degrees F) around the spark/ember (1400 degrees F) and feeds oxygen to the spark, (2) the spark is buoyed up and floats along in the gas stream for 100 feet or more.
The QUENCHER spark arrestor creates extreme turbulence and breaks apart the envelop, strips the oxygen (fuel) away from the burning spark, extinguishing and cooling it. The temperature of the spark, leaving the QUENCHER, is now too low to cause an ignition and fire. The cooled sparks are safely carried along the gas stream to the dust collector.
CAUTION: Air mixing or blender devices, being marketed as spark suppressors and spark coolers, do not create enough turbulence and have large gaps in the cells, permitting sparks to slip through and set fire to the dust collector.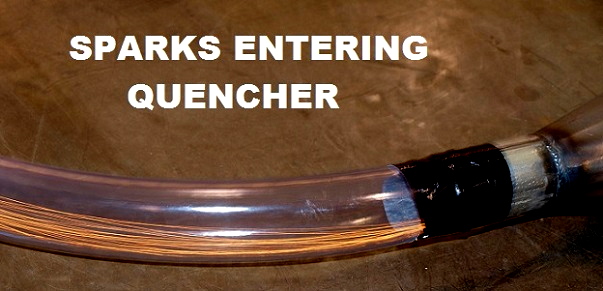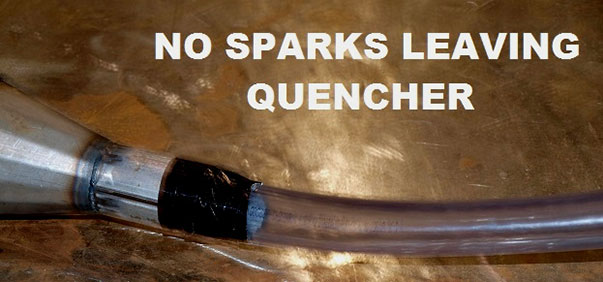 Cell Cleaner & Booster Add-on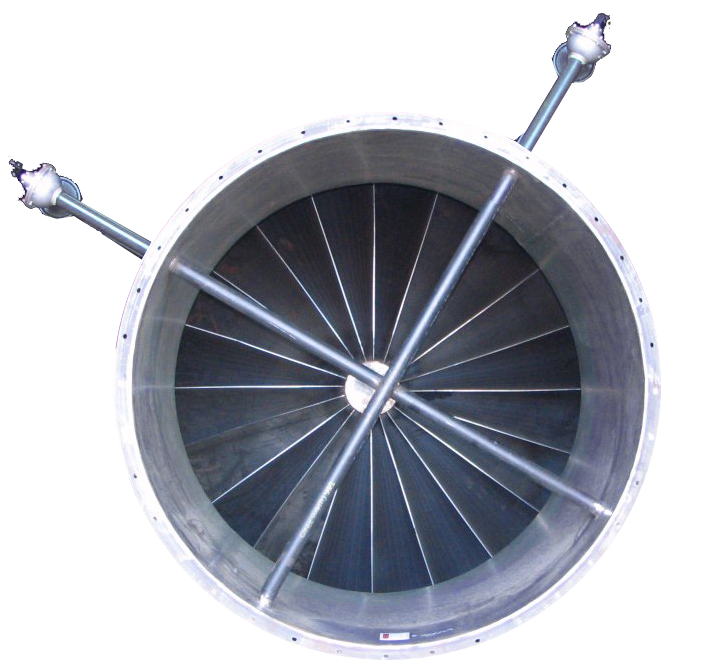 OSHA & NFPA friendly; Strongly recommended option because it is important for the Quencher cell & blades be kept free of combustible dust. Accumulations from heavy dust loading could cause a fire and void the warranty. To help reduce the issues associated with dust accumulations, an optional CELL CLEANER / BOOSTER device can be installed in front of the Quencher. This device can be actuated manually or automatically. Visit The Booster Duct Cleaner page for more information.
The Cell Cleaner is an add-on option that is shown toward the end of the video, below.
Why you should buy a QUENCHER spark arrestor from us?
Purchasing the Quencher Spark Arrestor, you can be confident you are entrusting the safety of your operation with the engineering know how of a company which specializes and protected spark arresting technology.
Having lead the evolution of the industry over the past 15 years, Quencher has the experience to ask the right questions and the acumen to look for the potential dangers that exist in all spark generating applications and will provide a solution based on your potentially hazardous environment.
Required for compliance with NFPA 69; Only Quencher by QAM has the engineering personnel capable to do this. Providing complete comprehensive documentation outlining compliant installation, operation and application is mandatory to be included with the product.
Still need more convincing?
The Quencher is self-cleaning and prevents pressure build up. Quencher uses no hazardous drop out provision. Quencher is heavy duty construction for long life in industrial settings, unlike other spark arrestors  ductwork grade construction.
Quality Air Management has installed over 2,200 Quenchers in every industrial application imaginable worldwide during the past 15 years.  Collectively, these units are handling billions of cubic feet of air and extinguishing tens of millions of sparks per minute, each and every day, hazard free.
Watch The QUENCHER Video
QUENCHER spark arrestor can claim 100% performance when it is installed and operated according to the owner's manual. No one else dares make this claim. Compliance with the requirements of NFPA 69 fire prevention standards is essential. Because of the industrial quality of the QUENCHER spark arrestor is the only spark arrestor that helps you comply. Many imitators and cheap commercial grade devices fall very short of this.