Dust Extraction with Small Industrial Dust Collector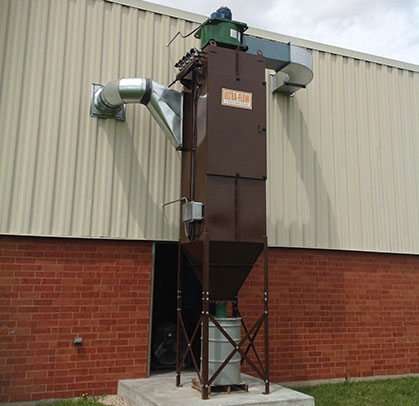 Our Small Industrial Dust Collector is designed for smaller applications but still use our advanced compressed-air, self-cleaning technology. Our top of the line dust collectors can filter out sub-micron sized dust particles in continuous operating mode and our sealed mechanisms and easy access doors make maintenance as simple as possible. These Small Baghouse Dust Collectors offer a great value for smaller businesses and their smaller footprint means it can be installed in much tighter spaces.
If you could payback the entire purchase price of your dust collector, would you do it? See how thousands of operators have done just that with their operating cost savings.
Features at a glance
Hi-Tech LC series self-cleaning baghouse industrial Dust Collector, suitable for all types of granular dusts and air pollution control, this dust collector is ideal for your shop or anywhere indoor air quality is a concern.
Most advanced pulse jet cleaning technology; Cleans 100% of media (instead of 20-25% by conventional technologies)
Powerful, but gentle high-volume / low-velocity pulse jet for stable dust cake, 1/3 pressure drop, less cleaning frequency and prevent wear and tear of filters.
99% efficient on all types of particulate dust and produces no "puffing" during a cleaning pulse.
Positive seal system; Prevents harmful dust leakage to the outlet.
Easy to service; bottom load bags and cages.
High side inlet; absorbs impulsive dust loads and ensures dust drops to the hopper unimpeded. Allows for high-ratio operation at up to 18:1 filter ratio, regardless of dust and/or application
Large access door; for easy service.
Optional perforated baffle; Optimize air and dust distribution over all filters, reduces effects of abrasive dust.
Hopper or Low-profile dust drawer styles available.
Affordable Purchase Price, 30-40% smaller foot print, this dust collector is a compact version of our acclaimed heavy duty Ultra-Flow Baghouse Dust Collector.
Lowers Yearly Operating Cost, 25-45% Lower power consumption and compressed air usage, and 50-80% Lower maintenance and operating cost.
Built to ISO 9001:2008 and CWB Certification, Your Guarantee of Quality and Reliability.
Designed, Engineered and assembled in the U.S.A. and Canada. Our component suppliers are strictly U.S.A. and Canadian.
Download/Print our Catalog and Technical Documents - click here
Why you should buy from Quality Air Management - click here