Ideal for Vacuum Systems (2″ to 4″ tubing); the Mini-Quencher
An extension of our highly acclaimed Quencher spark arrestor product line. A static device, with no moving parts.The spark trap "cell" consists of overlapping turbulation vanes in a round housing, thereby creating maximum agitation and turbulence of the air stream. Turbulence strips the oxygen (fuel) away from the spark/ember, thereby extinguishing it. The hot air envelop surrounding the spark/ember, being removed by high speed agitation immediately cools the spark/ember to the low temperature of the air stream.
Mini-QUENCHER spark arrestor (or spark trap) is designed and built specifically for spark arresting and cooling. It is not a renamed air blender or mixer.
Duct Connections: Standard is sleeve joint / slip on.
Robust and abrasion resistant: made of painted hot rolled steel tube and internal components.
Stock Models Available: (shipped in 24-36 hours, APO)
Q-2; 2 inch (OD) connection, 100-150 SCFM, 23 inch long, terra-brown Steel, 10 lbs
Q-3; 3 inch (OD) connection, 130-340 SCFM, 26 inch long, terra-brown steel, 18 lbs
Q-4; 4 inch (OD) connection, 300-500 SCFM, 37 inch long, terra-brown steel, 25 lbs
* Non-stock item made to order
Get the Specification Sheet (download/print PDF)

How the Mini-Quencher Spark Arrestor Works
Laminar flow in ducts; (1) creates a hot air envelop (800°F) around the spark/ember (1400°F) and feeds oxygen to the spark, (2) the spark is buoyed up and floats along in the gas stream for 100 feet or more.
The Mini-QUENCHER spark arrestor (spark trap) creates extreme turbulence and breaks apart the envelop, strips the oxygen (fuel) away from the burning spark, extinguishing and cooling it. The temperature of the spark, leaving the Mini-QUENCHER, is now too low to cause an ignition and fire. The cooled sparks are safely carried along the gas stream to the dust collector.

CAUTION: Air mixing or blender devices, being marketed as spark suppressors and spark coolers, do not create enough turbulence and have large gaps in the cells, permitting sparks to slip through and set fire to the dust collector.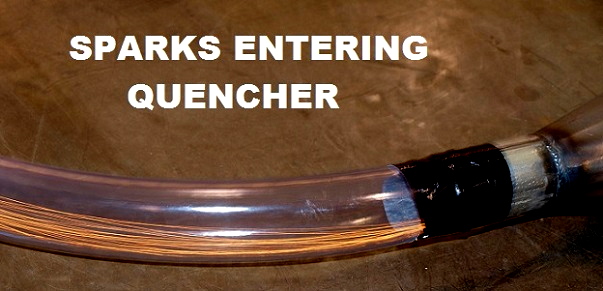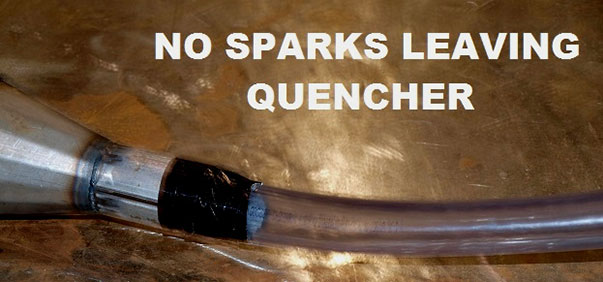 Quencher Models Available
Model
Typical Duct Diameter

(inches)

Operating Range

(SCFM)

Q-2, Mini-Quencher
2
100-150
Q-4, Mini-Quencher
4
300-500
Q008
6
490-820
Q010
8
790-1310
Q012
10
1100-1840
Q016
12
1800-3000
Q020
14
2980-4960
Q024
16
4420-7360
Q030
22
7070-11,800
Q038
28
11,300-18,800
Q048
36
18,300-30,600
Q060
44
28,900-48,200
Q072
54
41,600-69,300
Q096
72
74,200-123,700
Q108
80
94,200-157,100
Custom models for any duct size and/or operating range, up to 250,000 CFM.